Pioneering Santa Cruz cannabis brand Jade Nectar
on cannabinoid-rich tinctures and new salve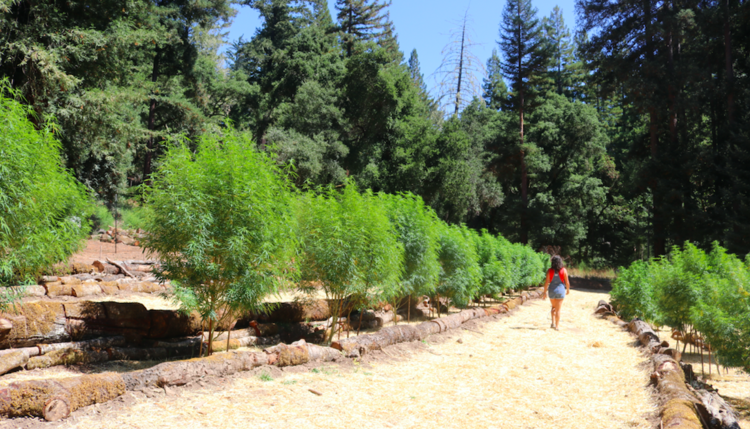 Jade Nectar, makers of cannabinoid-rich tinctures and brand new 1:1 Balance Salve is one of Santa Cruz's original cannabis brands. With a home base in the Santa Cruz mountains, Jade Nectar exemplifies the Santa Cruz cannabis industry: innovative, authentic and driven to provide the best and most effective cannabis formulations for our modern lifestyle.
We are proud to have carried Jade Nectar products from the very beginning. We chat with Jade Nectar to find out more about their new 1:1 Balance Salve (great for aches and pains and stress relief!) and their cannabinoid-rich formulations for their popular line of tinctures.
I have a jar of your new 1:1 balance salve in front of me and it is lovely. What can you tell us about it?
Our topical salve can be applied to any part of your body that needs relief from pain or stress. It allows you to specifically target any part of your body that needs a little love.
Where our salve really shines: Back pain flare ups, arthritic joints, and muscle aches. Our Salve can also work wonders for stress – try rubbing a little on your temples or on the back of your neck to feel the stress melt away!
To create a topical salve, there does need to be a thickening agent, so we include a small amount of organic cacao butter and organic carnauba wax. The cacao is yet another ancient superfood that adds a richness and body to our salve, and the carnauba wax is a vegan alternative to beeswax that is harvested from organically certified trees in Brazil. We do not add any other ingredients to our salve to distract from the effectiveness of our cannabis and these simple ingredients. We priced our salve as affordably as possible, so we want customers to be able to be lavish with the salve, and really slather it on any problem areas to maximize relief!
You use olive oil in your new salve and tincture formulations, why olive oil?
Jade Nectar uses olive oil as our carrier oil because olive oil is one of the original super foods of human civilization. Humans have been consuming olive oil for thousands of years. For example, olive oil is the main ingredient in the Biblical Anointing Oil recipe, and it still remains one of the healthiest oils to eat or use externally.
Coincidentally, cannabis also arrived on the human civilization scene thousands of years ago around the same time as the rise of olive oil, so these two ancient plant superfoods have been a part of human civilization for a long time, often blended together.
Jade Nectar is simply carrying on with this long tradition of promoting wellness with olive oil and cannabis. We do not believe in using cannabis concentrates, distillates, or CO2 cannabis extracts. Our formulas are created by simply soaking whole flower cannabis in olive oil, and the cannabis compounds naturally absorb and infuse into the olive oil without the need for any chemicals or laboratory equipment. Jade Nectar is food!
Some of the finest olive oil in the world is grown right here in California. Jade Nectar sources our extra virgin artisan olive oil from a small partner farm in Paso Robles, California. When using a Jade Nectar formula, you are supporting Santa Cruz Mountain grown cannabis and olive oil that is grown and produced by a small family farm in Paso Robles.
You have made recent tweaks to your tincture formulations. Your 20:1 cbd formula is now 30:1 cbd drops. What does your 30:1 cbd formula do for folks seeking relief?
Jade Nectar recently transitioned our labeling for our CBD formula from 20:1 to 30:1 CBD Drops. Our in-house CBD rich cannabis genetics have been naturally producing CBD at a ratio of 30:1 in the plant itself, so we updated our CBD label to reflect the ratio that our plants are now producing. (Back in 2016, we were using other CBD genetics that produced a 20:1 ratio, but our newest CBD genetics are consistently producing a 30:1 ratio).
Most people are not able to detect the difference between 20:1 and 30:1, but for those who want to limit their THC exposure as much as possible, the 30:1 ratio does have slightly less THC.
You are introducing new high potency tincture formulations. What can you tell us about them?
Our High Potency formulas are made with the exact same technique we have always used of soaking whole cannabis flowers in olive oil, but we are now adding as much cannabis as we possibly can to the olive oil soak. And to be clear, it requires over twice as much cannabis flower in the formula to achieve the 900+mg per 1 oz bottle of formula.
Why are we doing this, and without raising the price? Our goal as a company has always been to make cannabis wellness formulas as affordable as possible in order to provide access to cannabis wellness to as many people as we can. (And when people can't afford it, we figure out ways to donate cannabis for free). We sincerely believe that cannabis has the potential to improve the quality of life for anyone who is interested in exploring cannabis, and we do not want the cost to limit someone from exploring cannabis wellness.
Now that we are a few years into the regulated cannabis market, Jade Nectar is getting our bearings, and we have been able to improve our efficiency and production techniques. So we are passing those savings on to the customer. We did not invent cannabis, we do not own cannabis, and we want to share the cannabis love with everyone.
What are the advantages of jade nectar high potency formulas?
For the same price, customers can now get almost double the amount of cannabinoids in a bottle of Jade Nectar. This allows customers on a budget to stretch their formula for a lot longer. Or for people who require higher doses of cannabinoids, our High Potency formulas allow consumers to be more lavish and consume higher cannabinoid doses without worrying about running out of formula so fast!
What are the effects of high potency formulas?
Due to the higher concentration of cannabis compounds in our High Potency formulas, we have found they do tend to absorb much faster into your system when consumed.
Many people have reported feeling the effects of the cannabinoids within a matter of minutes. Jade Nectar olive oil tinctures are much more fast acting than edibles because our tinctures are mainly absorbed into your bloodstream through your mouth instead of edibles that need to be processed through your stomach and GI tract.
Many people feel that Jade Nectar is a hybrid experience somewhere between an edible and inhalable cannabis, as the effects are felt within minutes but without smoking or vaping.
Jade Nectar is one of our local cannabis pioneers, what do you love the most about applying your craft in Santa Cruz?
The Santa Cruz Mountains have a very long history of cultivating some of the best and most innovative cannabis genetics in the world. There is an enchanted mystical cannabis lore and culture that is alive in these mountains, and the cannabis activism and historical significance of WAMM, who's center was in Davenport, and who prevailed in their medical cannabis stand against the federal government, these factors make Santa Cruz one of the most important epicenters for the evolution of cannabis in the modern world.
To be able to grow our cannabis in the Santa Cruz Mountains, and to have the opportunity to share our Jade Nectar formulas with our local Santa Cruz community is a great honor.
We are also thankful to KindPeoples who was the first dispensary to carry our Jade Nectar formulas long before PROP 64 and the new regulated recreational market!