Purple City Genetics limited edition seedlings available at KindPeoples in Santa Cruz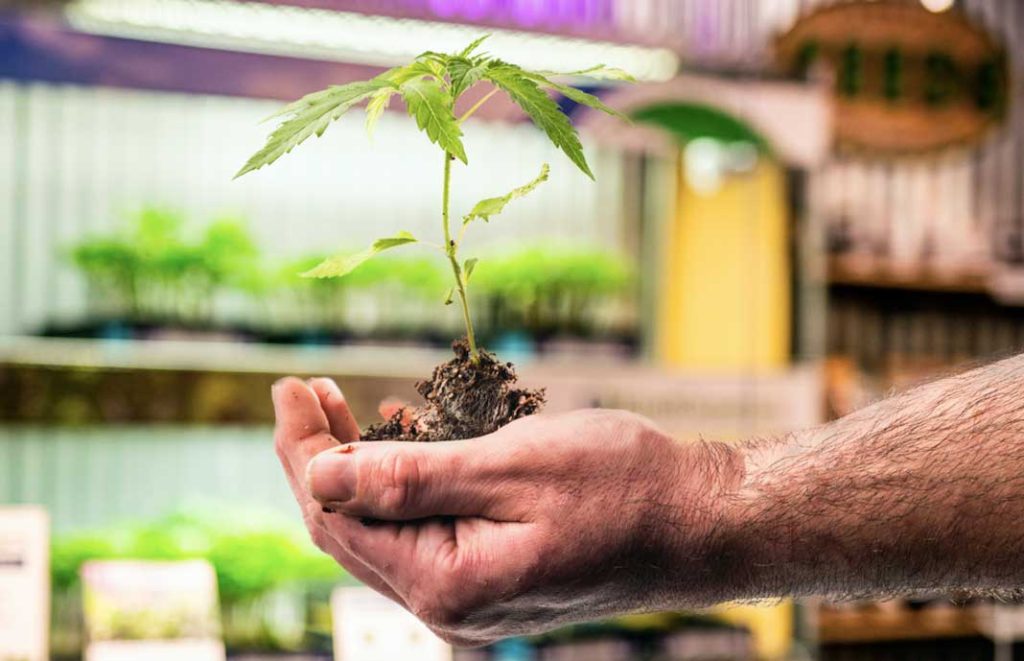 "What should we grow next year?" "What's going to be the next big thing?" are questions we at Purple City Genetics are used to hearing ever since we got started in 2008 as a medical cannabis collective in Oakland, California.
In those early days during the medical movement we primarily worked with small, indoor growers who had a deep understanding of current consumer preferences and what the next vanguard cultivars were likely to be.
This close connection to our community of growers, cultivators, farmers and producers has been one of our greatest assets from a cultivar selection and breeding process perspective.
The genesis of our breeding program extends from the same desire we've always had—to provide new, unique and vanguard cultivars to cultivators who want to keep up with the latest trends and have various terroir/microclimate and end-use cases in mind.
Whether you want to grow top-shelf flower to enjoy on its own or use to create hash or other concentrates, our breeding program always has buyers in mind who want a variety of popular flavors and terpenes.
Our Breeding Philosophy
We care deeply about the plant, which faces an ever-evolving set of challenges, both human and botanical. Our mission is to provide the best genetics possible.
This means searching through hundreds of thousands of seeds every year looking for the one or two cuts worthy of the Purple City Genetics roster. Those that supply high THC, unbelievable terpenes, and a high return in concentrates.
Our Breeding Program
Our program is created from an extensive archive of genetics that range from rare and emerging exotics to the canonical standards.
Our seed line is a true expression of California's diverse cannabis heritage—shaped with both farmers and tastemakers in mind. We offer a broad range of feminized, autoflower, and standard photoperiod seeds to solve for the diverse needs of cannabis farmers and various environment and end-use cases— top-shelf flower, live resin via mechanical extraction, etc.
Seeds vs Clones
Many growers ask "Why seeds over clones?" Compared to clones, seeds offer increased yields at lower cost, stronger taproots and immune systems, elevated THC and terpene levels, and more pest/viroid resistance.
Seed-based plants are a known standard for more established agricultural sectors.
Purple City Genetics 2021 limited edition seedlings for retail
Our limited edition seedling offering for select dispensaries offers the newest Purple City Genetics selections that commercial cultivators are selecting to grow this season but aren't available to consumers in seed or clone form.
The small batch nature of our Limited Edition retail seedlings ensures that home growers who want to be on the cutting edge of genetics have access to what's typically only reserved for commercial farmers.
Introducing Slushmints, only available at KindPeoples in Santa Cruz
Some of the releases are varieties that will only be available in the dispensary seedling drops and not to commercial farms! One such strain is our upcoming SlushMints (Slurty3 x Gush Mints) drop, only available at KindPeoples in Santa Cruz.
SlushMints is an indica hybrid, 9-10 week strain. Predicted terpene notes can range from gas to kush to the sweet funky skunk of Gelato. The lineage is Slurty3 (Slurricane x Gelato 33) x Gush Mints (Kush Mints x F1 Durb x Gushers).
This is a prime example of a rare and emerging exotic cultivar bred by Purple City Genetics.
Rare & exotic—Gush Mints & gm crosses
When we bred Gush Mints itself, we aimed to highlight a look and terpene profile that harkened back to varietals from the days of early legalization cannabis and which also met the potency and yield needs of today's growers.
Many of the Gush Mints crosses have purple phenotypes and a creamy gelato, vanilla frosting, but also a gassy, burnt rubber type terpene profile.
Kush Mints has many of these traits, but it can be a particularly slow vegging plant. With Gush Mints, we crossed Kush Mints with our F1 Durb x Gushers, and the result is a polyhybrid that we feel is a defining cultivar for 2021.
The inclusion of the F1 Durb component also speaks to our desire to reintroduce older, classic cultivars back into the cannabis gene pool with refreshing and reminiscent terpene profiles and experiences that only older sativas can offer.
Older varietals are rare, and the addition of them into the breeding mix with strains like Gushers, Kush Mints, etc. add an extra layer of richness to what's already considered exotic in today's market.
From an agronomic and trait standpoint, the net result of the breeding work we've done with Gush Mints is a faster growing and higher yielding variety, with the color, nose, taste and finish that California consumers are really after today.
Upcoming Slushmints seedling drop
If you take all of those traits and tastemaking notes from the Gush Mints itself, and cross it against Slurricane [Dosidos x Purple Punch] x Gelato 33), expect a powerhouse of a cross that'll be a standout winner for anyone's garden in 2021.
When you open a jar of SlushMints at a party, you can count on turning more than a few heads.
Check for Purple City Genetics Limited Edition seedlings, clones and seeds at KindPeoples Soquel Avenue and Ocean Street locations in Santa Cruz.
Eric Rosen is the Sales Director of Purple City Genetics. He holds an MBA from The Marshall School of Business at the University of Southern California. When he's not traveling around the state consulting with cultivators, he lives in Los Angeles with his wife, 3 kids and their Pandemic Puppy, Mushu.