Cannabis Legends Arrive at KindPeoples
Tommy Chong and Cheech Marin, the comedic duo and original stoners Cheech and Chong, found fame from their stand up comedy and iconic films based on counterculture movements of the 70s and 80s, most notably their love of cannabis. Heavyweight hits such as "Up in Smoke" and "Nice Dreams" have shaped much of what stoner culture is and continues to be today.
During their reign, the duo recorded six gold comedy albums and starred in eight films, most of which they co-wrote and directed. Along with being established actors, comedians and musicians, the legendary pair have solidified themselves as the founding fathers of the cannabis industry. True cannabis activists and advocates, they remain dedicated to their vision of sharing the love, experience and understanding of cannabis. They both went on to launch their own cannabis brands, determined to bring the very best products available on the market.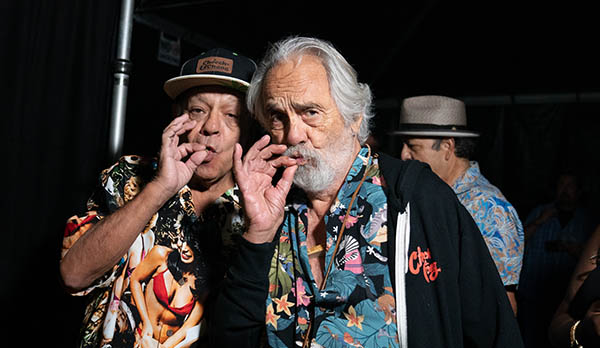 The launch of Tommy Chong's Cannabis brand provides an opportunity for the Guru of Ganja to participate in a process he's waited decades for – selecting his favorite strains while securing clean legal cannabis. Walking the greenhouses where the magic happens, Tommy and his team select each strain carefully while making sure the product and process is up to his standards. Tommy states, "It is important to revere the plant, make sure she is well cared for and the path to the kind bud is pure. I wouldn't have it any other way man." Tommy worked with a hand picked team of creatives to bring his passion and love for cannabis culture to every fiber of this brand. You can find Tommy Chong's Cannabis in the 1G Hastranuat preroll, The Stash 1/8th and Halfa Zip 1/2 Oz. Whatever you choose as your road to highness, remember, you're tokin' up "The Choice of Legends."

Cheech has made it his mission to bring consistently good quality products and looks forward to shaping the future of the adult-use market responsibly. With the introduction of a rigorous, five point testing protocol, Cheech's Stash has become synonymous with quality. Cheech's Stash currently offers a variety of products including prerolls and 1/8th of his proprietary strains, Fuchi Que Pesta, Was Sappening, and SoTooMuch. Cheech's vision for the brand is to always stand by his unwavering promise that Cheech's Stash "will always be good!"

The perfect place for Cheech and Chong to land is the iconic cannabis community of Santa Cruz California. Steeped in a rich cannabis history of original strains like Blue Dream and others, Santa Cruz is home to the communities favorite dispensary KindPeoples. KindPeoples proudly carrys both Tommy Chong's Cannabis and Cheech's Stash products. Come celebrate the roots of the cannabis industry by enjoying a Tommy Chong Cannabis Hashtranaut infused 1g preroll or flower 1/8th from his favorite handpicked mixed light grown strains. Try one of Cheech's Stash kief infused Kieferito 1g prerolls or indoor grown 1/8th with his quality stamp of approval. Now available at both KindPeoples locations, see menu for strains and availability. Tip, search "Cheech" or "Chong" to see KindPeoples' current selection.