Find your bliss with the refreshing taste of Lagunitas Hi-Fi Hops
Infused with sun grown cannabis and with an effervescent, hoppy flavor that puts the popular sparkling waters on the market to shame, Lagunitas Hi-Fi Hops is the official beverage of the pandemic summer.
Available in various CBD:THC ratios, their latest formulation, is an 18:1 CBD/THC dream—the perfect accompaniment to your next chill session.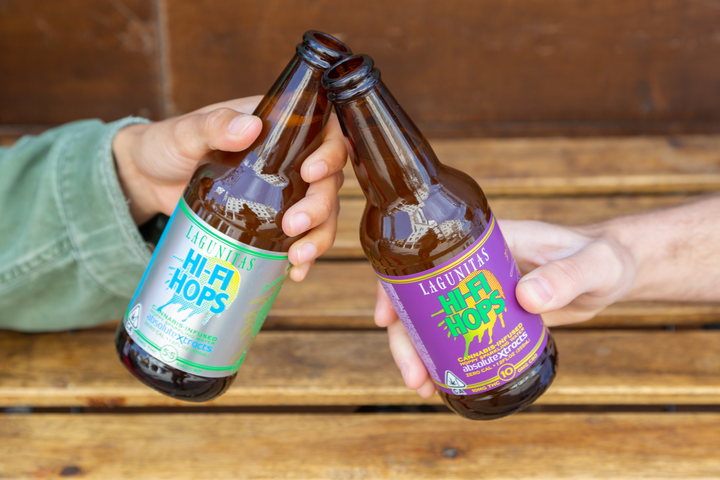 We caught up with the team behind Lagunitas Hi-Fi Hops to ask them how they made such a tasty, refreshing repast.
How does lagunitas keep the refreshing IPA-inspired flavor?
Lagunitas and AbsoluteXtracts invented the premiere cannabis beverage that's defining the category. Expertly-crafted, cannabis-infused, hop-flavored sparkling water with no carbs, no calories, no sugar and no gluten. We start with hop water, made by Lagunitas with the Yakima Valley's finest hops, then we add AbsoluteXtracts' proprietary cannabinoid emulsion, ensuring consistency in potency, flavor, and effects.
The taste of Hi-Fi Hops is described as flavors of tropical citrus, floral, and fruity with slight passionfruit and mango, all on a nice bed of hops.
What can you tell us about the cannabis from AbsoluteXtracts?
We start by extracting THC and CBD from clean, sun-grown cannabis flower, using CO2 as a solvent. Using a proprietary process, the blend of THC and/or CBD is then evenly dispersed throughout the hop water, resulting in a sparkling beverage with pure hop flavor and cannabinoid potency.
What should we expect when we pop open an 18:1 CBD/THC Lagunitas Hi-Fi hops? Why did you increase the cbd ratio?
This CBD-rich beverage contains 18mg of CBD and less than 2mg of THC to create a calming and overall relaxation with very little to no psychoactive effect. Whether you're chilling out or still needing to get things done, it's the perfect alternative to alcohol. The 18:1 mg CBD/THC is a CBD-rich beverage that helps you unwind and feel at ease without as intense of a psychoactive high that you would get from a heavier THC ratio.
"We've often dreamed of hops and their cannabis cousin partying together at the family reunion and wanted to bring this party to life in a beverage. It's high-time good beer inspired a provocative, yet refreshing non-alcoholic alternative. With a smidge of California sun-grown cannabis in every sip."

-Jeremy Marshall, Brewmonster, The Lagunitas Brewing Company